What is DuRide?
DuRide is a local non-profit service that provides a safe and personalized transportation option for seniors who are unable or do not want to drive any longer. DuRide offers private car service 365 days a year. DuRide is a safe and economical way for seniors to maintain their independence and stay connected with family, friends and the community. All DuRide volunteers complete a background check, hold a valid driver's license, and proof of insurance.
DuRide offers door-through-door service.
If you need help with steps, heavy doors, walkers or carrying packages, DuRide will assist you from the car to your home and back, if you'd like.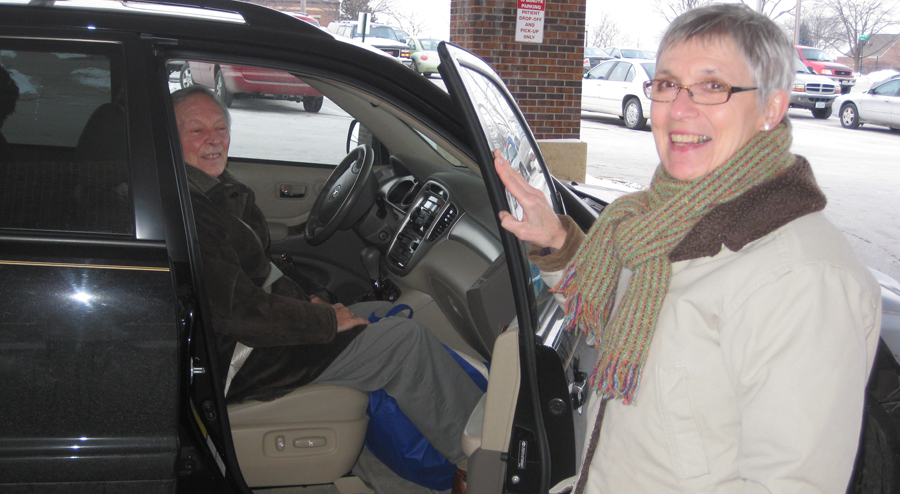 Who Can Use DuRide? And where?
If you are 65 or older, you can use DuRide. If you have a parent or relative who would benefit from using DuRide, you can set up an account for them. DuRide is available in Dubuque, Asbury and East Dubuque.
How Do You Use DuRide?
You can call DuRide to arrange for transportation whenever you need it, for whatever you need. If you don't drive anymore or don't want to get out in the traffic or bad weather, DuRide can help. Just call DuRide to get where you need to go. You will ride with a licensed, insured volunteer in a private car.You can schedule rides and carpool with your friends to save money, too.
Use DuRide for these and other trips:
-Appointments and errands
-Grocery store and meals out
-Church services
-Visiting friends and relatives
-Taking a class
-Recreational activities – movies, concerts, plays, casino, exercise
Click Here to Volunteer for DuRide
Thank you to Congressman Rod Blum for volunteering as a DuRide driver on Wednesday. He provided rides for Curly and Marjorie, and channel 2 KGAN Television news, rode along.